Anyways, moving on to the purpose of this post. Part of the event involved getting paired up with other book bloggers and swapping interviews. My partner is the lovely
Erika from Moonlight Book Reviews
. Not only is Erika a fellow book blogger, but she also loves
Doctor Who
, which means she's one awesomely cool lady. Here's Erika!
What do you look for most in a "good read?"
I look for characterization the most. If I can't relate to a character and the characters in the book aren't believable then I usually don't finish a book. I also like plot lines that keep it hopping but yet can slow it down enough to have close, intense moments between characters. I primarily like anything that isn't contemporary fiction. I even love the classics! I recently am getting into New Adult fiction and am starting a new blog with my friend DJ that bridges the gap for readers who are exiting the YA age genre and are entering the adult genre. (incurableromantics.wordpress.com)
What are you currently reading and what do you think of it so far?
I'm currently reading Wait For You by J. Lynn. It has a tortoise. It's new adult, I love it. Though I do love everything Jennifer L. Armentrout (J. Lynn is a pen name) writes.
If you had to pick a song to match the book(s) you're currently reading, what would it be and why?
Kiss me by: Ed Sheeran. I've been reading a lot of lovey dovey books lately! It fits because it's just so good! It talks about Kissing someone like you mean it so that they can love you back without second guessing it.
What genre/author/series have you always wanted to try but never gotten around to?
Ahh this one is hard and I have a list of the somewhere around here!!! I'd really like to get around to reading all of Stephanie Perkins books. A friend of mine assured me that even though I don't read YA contemps that I would adore them! Plus I've met Stephanie and she is awesome!
I'd also love to read more adult urban fiction and new adult novels. I'm sort of addicted!
What is one part of being a book blogger that completely surprised you?
I'm so attached to my blog! I never expected to feel the guilt I do when I don't post everyday. I also didn't expect all the support from authors or the overwhelming amount of emails. There's all the experiences that have taken my life by storm: BEA twice, book signings, romantic times etc..
I hear you're a Doctor Who fan. Me too! If you had to recommend a book (Or two. Or five.) for fans of that fantastic show, what would you suggest?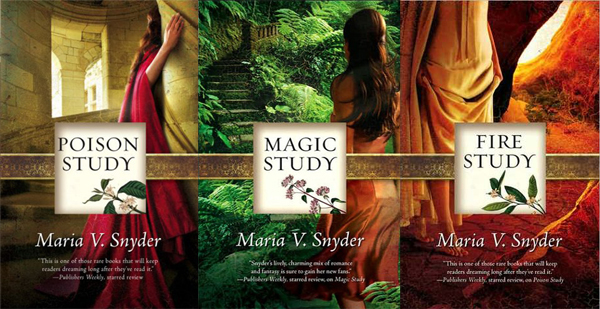 Woah this is a fantastic question!!! Even though it doesn't have time traveling I would have to say The Study Series by Maria V. Snyder. It's a brilliant novel that will keep your mind whirling!
What does your life look like outside of book blogging?
HA!!!! I don't have a life; I'm a nursing student! No seriously I study all day and night and barely have time to blog and read. I adore my university's hockey team (Ferris State University) and have been to almost every game this season here at home. I really like the snow so even though it's icy I take breaks and go for walks around campus. I also workout a ton with my friends, we're currently in the insanity workout video kick and my butt is so sore guys!!! I didn't even know I had a butt until today, for real!
My dorm room is tiny!! I barely have room for books!!!
The thing I miss the most about being away at college is snuggling with my scottish terrier back home!
I get into some ridiculous shenanigans with friends up here that ends in all of us laughing hysterically!
It's Book Blogger Love-a-thon, so here's YOUR chance to share the love! What are some other book blogs that you absolutely adore and would like to share with my readers?
John @ Dreaming In Books (He has a utterly unique perspective on books that I enjoy reading and he's awesome to talk to!)
Erica @ The Book Cellar (She's my name twin! Always helps me with technical difficulties and is always there for support)
Theres so many more but those are just a few! I'd name your blog too Natalie if I weren't already here!
Thanks so much for having me!
____________________________________________
Thanks so much for stopping by, Erika! It was a lot of fun getting to know more about you, and I'll have to check out some of those blogs you listed (I think the middle two are completely new to me)!