Clock Rewinders on a Book Binge is where
Tara @ 25 Hour Books
and
Amanda @ On a Book Bender
shamelessly plug each other, share the fantastic posts, giveaways, or whatever else they've found and loved by other awesome bloggers (or authors!) during the week, and talk about the books they plan on reading in the coming week. Since Tara and Amanda are such sweethearts, they let us join in on the fun!
MINDFUL MUSINGS RECAP

+ Adult: Review of Patient Zero (Joe Ledger #1) by Jonathan Maberry. This was a great action/adventure read, and the author himself even stopped by to leave me a comment!


IN NATALIE'S WORLD

Well, school (and teaching) both start up again for me tomorrow, so while I've really, really enjoyed being more active in the blogosphere over winter break, who knows how things will go from here! I'm hoping that I can be at least a little more active than I was last semester, maybe a post every other week or something like that. I missed you guys so much! I'll be checking in now and again, but fair warning...I tend to be super busy during the semester, so if I drop off the face of the blogosphere for awhile, you'll know where I'm at! If nothing else, I'll see y'all over spring break, though I'm hoping and crossing my fingers that I'll be around a lot before then!


AROUND THE BOOK BLOGGING COMMUNITY
BOOKS, I READ THEM
Images are clickable and go to Goodreads.
I've been in a bit of a skipping around mood, which is why I'm currently reading three books at once. I'm definitely enjoying Touch the Dark and Deadline so far, though I haven't quite made it far enough into Trickster to give out any opinions yet!
I also finished Dance of Shadows by Yelena Black (i.e. the "creators" of Lauren Kate's Fallen series) this week. I'm waiting to post my review until the publication date gets a little bit closer, but if you want a sneak peek at how I felt, you can see the rating I gave it on Goodreads.
NEW ON MY SHELF
These are the books I've gotten over the last two weeks are so. The first batch are from
Better World Books
, who was having a sale (30% off 10 books or more). So, of course, I had to buy 10 books. I got all of these for about $27! (Covers are clickable and go to Goodreads, as always).
As you can probably tell, I've been in the mood to catch up on my adult urban fantasy to-read list! Most of these are first or second-in-a-series, so I've got a lot of reading to do!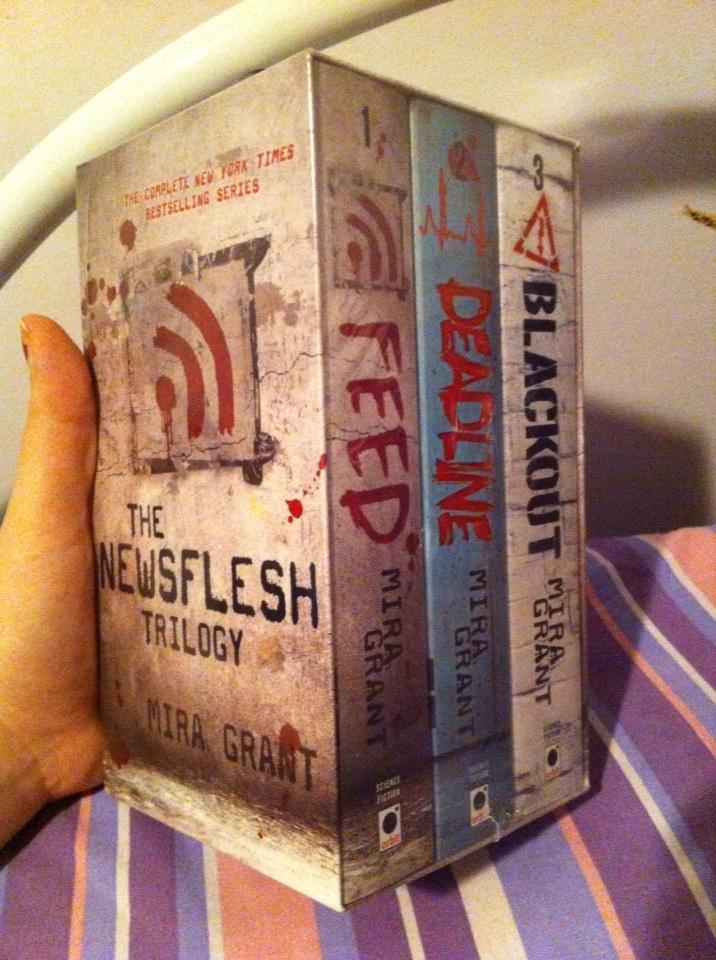 After reading and loving
Feed
via e-book, I HAD to go out and buy the entire series in print. I've started
Deadline
since then, and I can't wait to finish it!
For Review (unsolicited)
Since I pretty much shut down my review requests (except for NetGalley) at the beginning of last semester, my intake of review copies has gotten significantly smaller. However, apparently I'm still on some publishers' mailing lists, as things pop up in my mailbox every now and again...
NetGalley
...On the flip side of that coin, I went a little crazy on NetGalley over the last two weeks. I blame the fact that I hadn't looked at it in over four months!