• Grab your current read
• Open to a random page
• Share two (2) "teaser" sentences from somewhere on that page
• BE CAREFUL NOT TO INCLUDE SPOILERS! (make sure that what you share doesn't give too much away! You don't want to ruin the book for others!)
• Share the title & author, too, so that other TT participants can add the book to their TBR Lists if they like your teasers!


This week's teaser comes from my current read, Nightfall by Stephen Leather. I just started this one on Sunday night, but I'm finding it interesting so far!
"'You can't help me," she said, her voice a dull monotone. "No one can help me." She lifted her doll, kissed it gently on the top of its head, then slid off the balcony without making a sound (17).


Synopsis
'You are going to Hell, Jack Nightingale.' They are the words that ended Jack Nightingale's career as a negotiator with the Metropolitan Police. But two years later, when Nightingale is a struggling Private Eye, the words come back to haunt him. Nightingale discovers that he was adopted at birth and that his real father, a confirmed Satanist, sold Nightingale's soul to a demon from Hell. And on his thirty-third birthday – just weeks away – the demon is coming to claim its prize.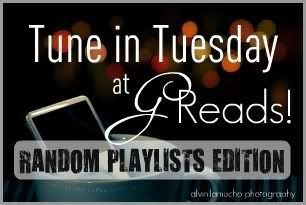 Tune-in Tuesday is a weekly feature hosted by
Ginger from GReads
. The idea is to share a song that you love, new or old, in order to spread some music around the blogosphere! The month of May is dedicated to random songs off of your playlist! So hit that shuffle button and link up!
Here are my (randomized) picks for this week. Shuffle button...please be kind...
"Here's to Us" by Halestorm
Weird that my shuffle would bring up this song, because it is very relevant to my mood at the moment, what with my college graduation coming up this Friday!
"Beautiful Disaster" by Kelly Clarkson
Okay, so I might have cheated a little bit on this one. "Beautiful Disaster," DID come up next on my shuffle, but it wasn't the live/acoustic version of the song. Since both versions ARE on my playlist, I thought it wouldn't be too much of a stretch to post this one instead of the radio version because I think it's better!
Haven't heard this one in awhile! I love this song, but the music video is a little creepy, for those of you who might be sensitive to that kind of stuff.