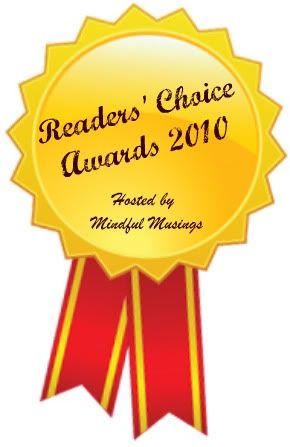 Best YA Series
9 votes. Haven't read these yet, but apparently they're pretty popular, as they're the only contemporary YA series that made the list!
15 votes. Haven't read these either, but the first one's in my review pile! I'm really eager to get to it after finding out it placed fourth!
19 votes. Not at all surprised to find this series on here. Pretty darn good!
26 votes. This one isn't a surprise either. I have yet to read Last Sacrifice, but I can't wait!
First Place by a Landslide
With a whopping 63 votes, The Hunger Games trilogy easily took the cake. Suzanne Collins, you are a genius, indeed.
__________________________________________________________________
There was a three-way tie for 5th place, all with 9 votes.
10 votes. Haven't heard a whole lot about this series, but now I'm definitely going to have to try it!
13 votes. Rachel Vincent is one of those authors that I really, really have been meaning to try but haven't gotten around to. I have a copy of Stray on my shelf, though!
15 votes. I've read the first book in this series and gave it a 3/5, but I've heard from multiple people that it gets a lot better. Apparently, this is proof!
I don't think anyone will really be surprised by this one. I have yet to read Dead in the Family (which I also couldn't find a picture of with the complete set), but I've pretty well enjoyed the rest of the series so far.
__________________________________________________________________
Thanks so much to everyone who voted! There was a total of 202 votes for this category, just in case you're interested. I'm working on tallying up the votes for the rest of the categories, and you should see another winner post tomorrow (though I'm not telling you which one)!