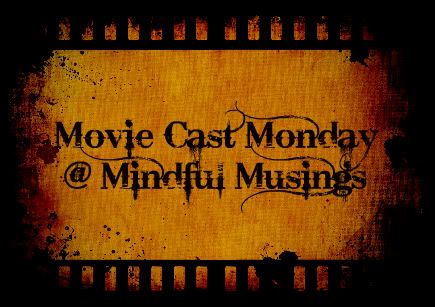 Want to join in the fun? Anyone can play! Here are the guidelines:
1) Create your own cast for an upcoming book-to-movie adaptation
OR
pick a book you'd like to see be turned into a movie and choose a cast.
2) Post the book title, author, and summary.
3) Try to pick at least 3 of the main characters to cast.
4) Grab the button please!
5) Come back and link to this post so everyone can check it out!
This week's pick is...
The Vampire Academy Series by Richelle Mead
Before I start, I want to tell you guys that I had a LOT of difficulty casting this one. I really love the series, and I kept going back and forth between actors. I'm not 100% satisfied with what I've got, but I think it's decent. Here they are!
Odette Yustman OR Elise Gatien
as Rose
Hathaway
You guys have NO idea how long it took me to come up with an actress who I thought would have ev
en a remote chance of being able to be Rose. Rose is one of my ultimate all-time favorite characters, and I just couldn't find anyone that screamed ROSE at me! Odette (to the left) kind of looks like what I'd im
agine Rose to look like, but I haven't seen her act in anything except for a brief appearance in Cloverfield (which I hated). Elise, (to the right) on the other hand, I think could definitely do a decent job being Rose in the acting department, but she's not quite what I imagined Rose to look like. See my dilemma? If I had to pick between the two, I'd probably go with Elise, just because I've seen her in action and I think she has potential. While either of these girls could probably do a decent job as Rose, I'm casting for one of my favorite series, so of course I want it to be AMAZING. I'm open to suggestions on this one! If you can think of a better Rose, let me know!




Evan Rachel Wood as Lissa Dragomir

I don't know if any of you guys have seen Evan act before, but (in my opinion), I think she's one of the most talented young actresses out there. She was amazing in Across the Universe, and she did a good job in True Blood as well. I think she'd be able to play both the vulnerable and kick-ass sides of Lissa.





Taylor Kitsch as Dimitri Belikov


To me, Taylor just looks the part. He's about the right age, and he definitely has that bad ass vibe to him. (Have you seen him as Gambit in X-Men Origins?) While browsing the Internet for suggestions, I found out that Ben Barnes (picture here) was another popular choice for Dimitri. I love Ben Barnes, don't get me wrong, and he could probably do a decent job, but I just like Taylor better for the part.








Nicholas Hoult as Christian Ozera
This is a looks only one guys. I've never seen Nicholas act, but apparently he's good in Skins (according to a friend of mine). I think he looks like Christian too. He definitely has that Moroi build.











Chace Crawford as Adrian Ivashkov
I don't have a lot to say on this choice. Surprisingly enough, I've never watched Gossip Girl, but I've seen Chace in other things and thought he was decent. Most importantly though, he looks like an Adrian to me.
Jamie Bell as Mason
What do you think? Does he look like a dhampir in training to you? I think he does. My other pick was Kyle Gallner (picture here), but as much as I like Kyle as an actor, I like Jamie better for this part.
I'd love to hear what you guys think! And if you decide to join in
Movie Cast Monday
this week, make sure to sign the Mr. Linky below!